Get an over-the-shoulder, insider's look a a variety of alternative, advanced techniques and tactics for oil painting
Watch this short video for a description of this course and how you can grow as a painter!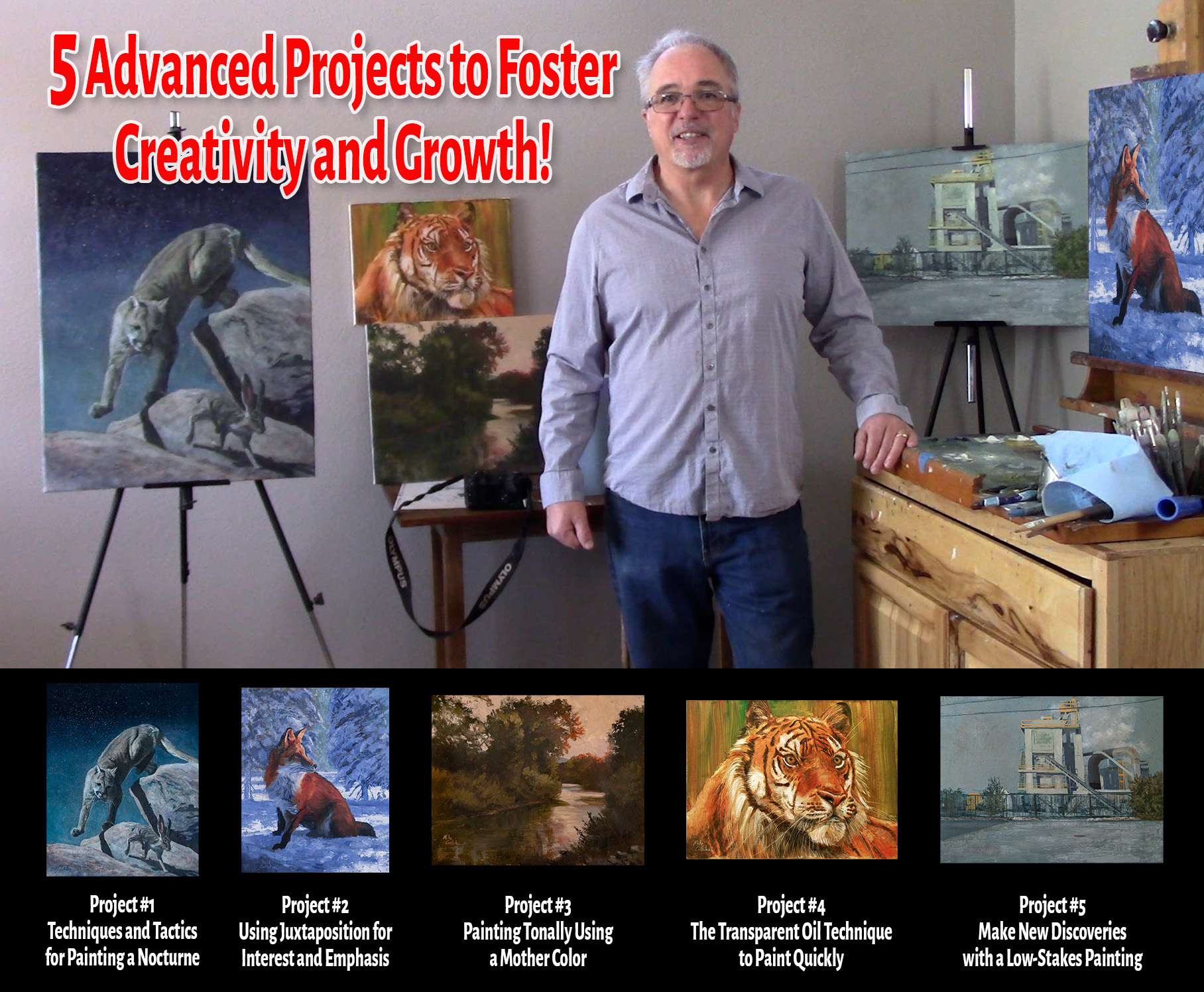 5 Unique Projects to Help You Become a
More Advanced Painter!
A common challenge for the growing artist can be figuring out a strategy for undertaking a certain project if it is a little outside the "typical". Oil paint is an extremely versatile medium and can be used in ways many don't imagine. In this course, Mike Callahan will show you a variety of techniques and tactics that are outside the standard methods of oil painting typically taught. You will follow along through five personal projects looking over Mike's shoulder, as it were; sometimes making discoveries on the spot! Follow along using project reference or simply apply the methodology to your own.
If an advanced technique works for you, incorporate it into your style!
As one grows as an oil painter, it often becomes difficult to develop one's own style. So many students feel stuck, almost like clones of their teacher. Advanced, alternative techniques and tactics should be explored by every student. You won't necessarily incorporate everything you learn but there will likely be some and incorporating those into your painting practice helps you develop a unique style
By the end of the course, you'll have been given problem solving insights and techniques to help you paint just about anything you want!
You'll be learning how to see and use some alternative approaches to creating oil paintings. You'll gain a valuable insight into how there isn't just one particular way to approach oil painting. You'll be led step-by-step into approaches that will help you paint those things that often perplex artists, such as nocturnes, tonal paintings, and paintings that need to be done in a hurry to name a few!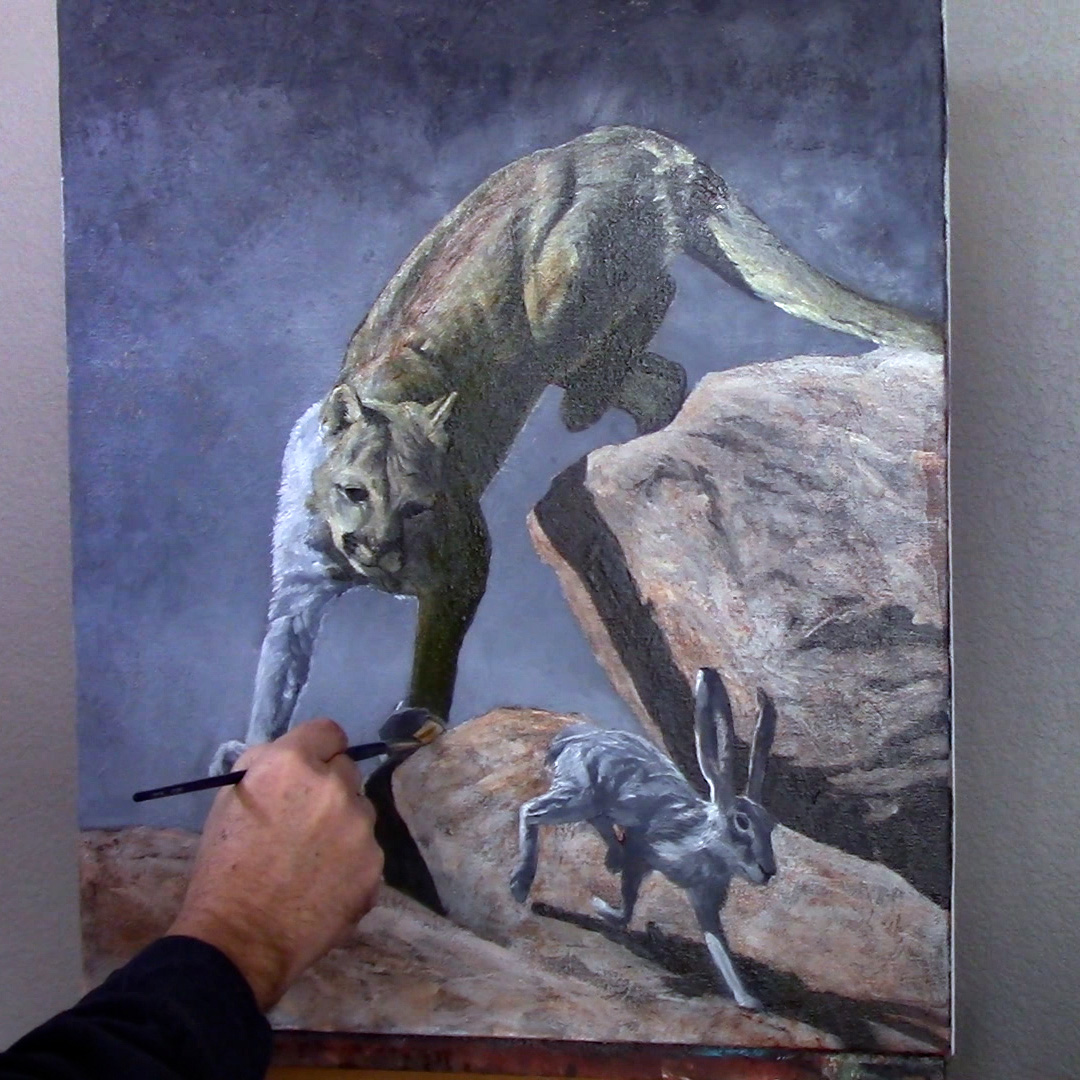 Creating a Nocturne Using Glazes
Starting with a solid drawing and underpainting, Mike shows you how to pull off a convincing nocturne! This technique can be used with virtually any subject you wish to depict as if it were nighttime!
Juxtaposition for Interest & Emphasis
In this project, you'll learn to emphasize your subject utilizing juxtaposition of both texture and color. Mike also demonstrates an alternative painting tool as well as a proper scumble to add drama and depth!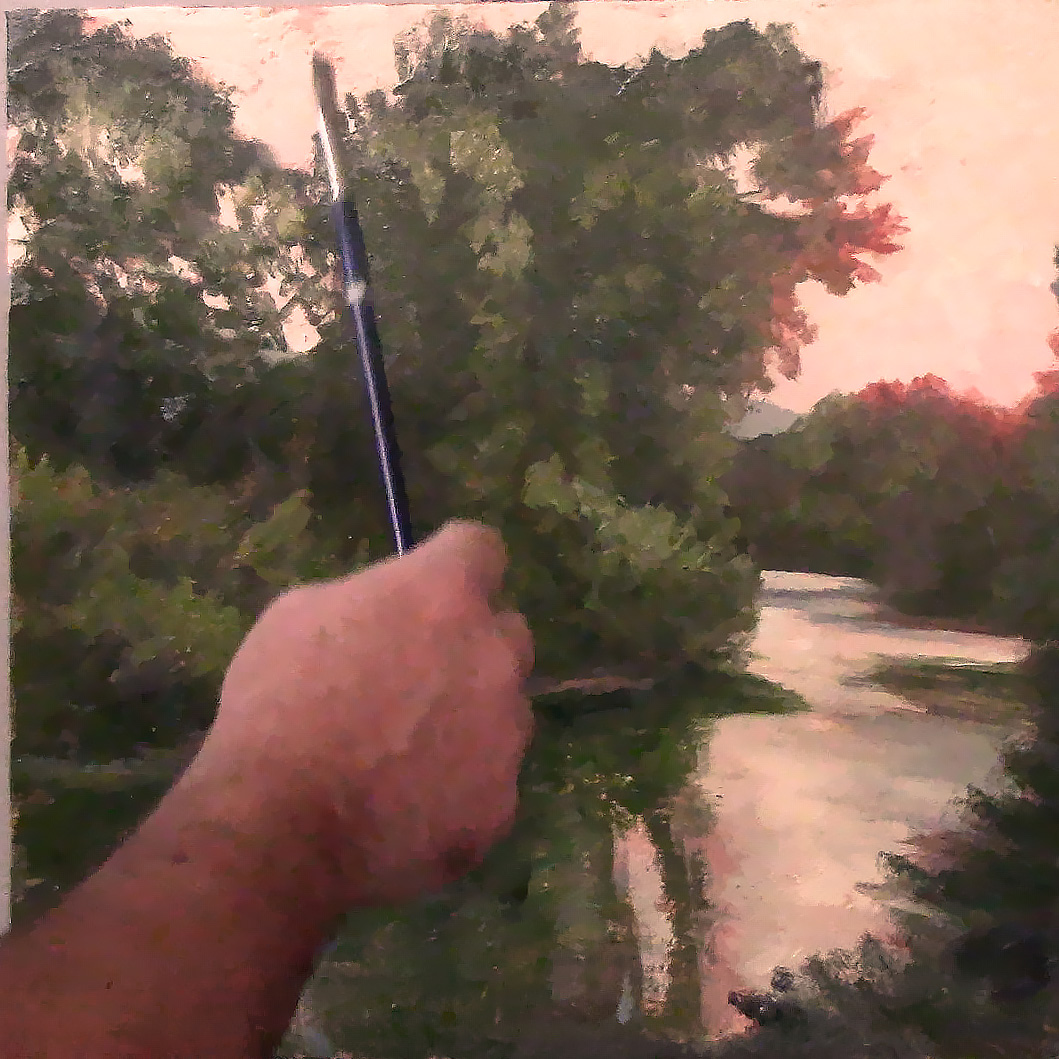 Painting Tonally with a Mother Color
Tonal paintings have are great for conveying mood, yet how to paint them is often shrouded in mystery. This is a project in which the mystery is made to give way to technique. Mike will introduce you to the idea of a "mother color" and shows you how to use it to create a warm summer scene!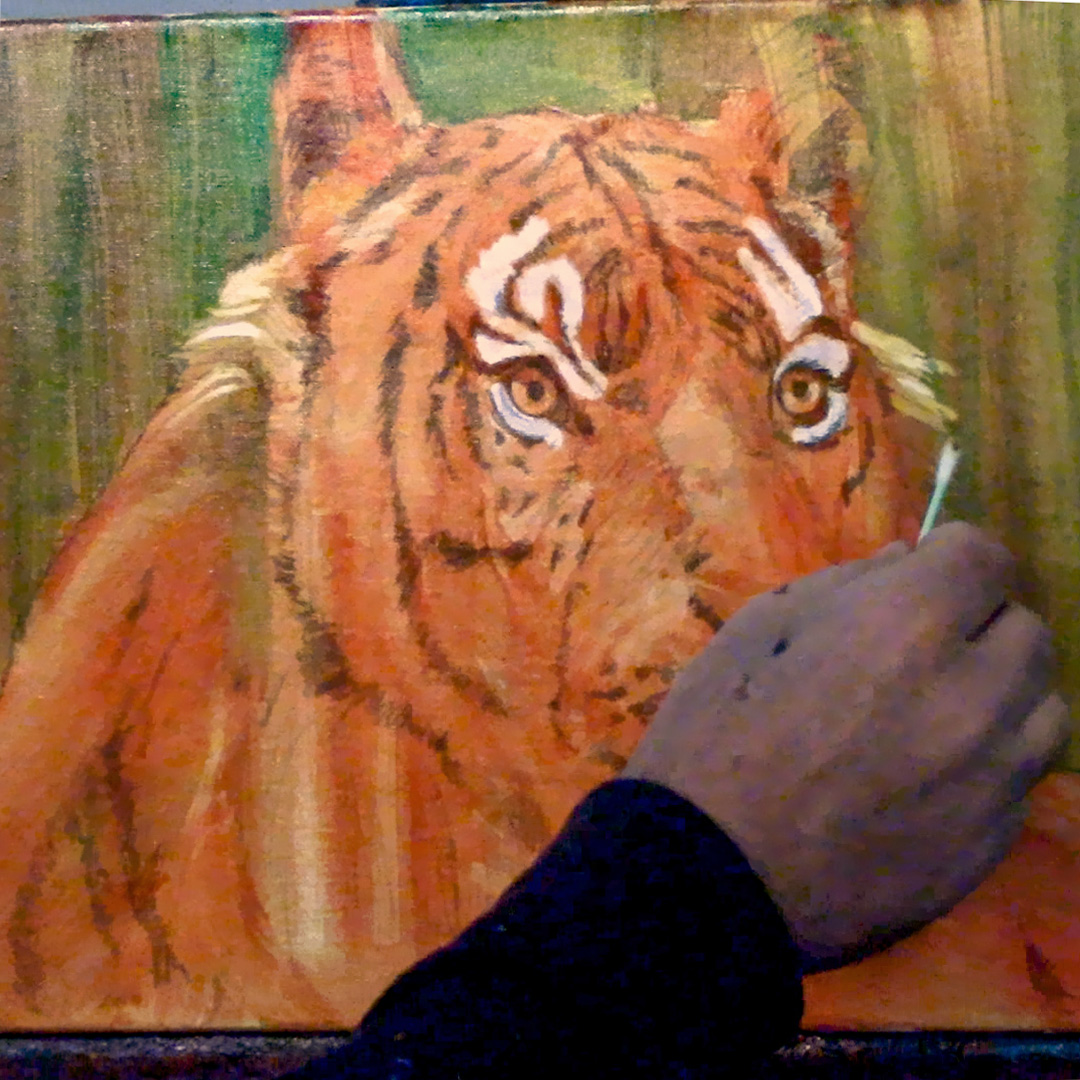 Speed & Style with a
Transparent Oil Technique
Certain lighting situations (typically higher contrast) can lend themselves to a transparent technique wherein tints are lifted from middle-values and darks reinforced later. Mike will show you this technique using it to quickly produce a dramatic, stylized piece! Try this one, you'll love it!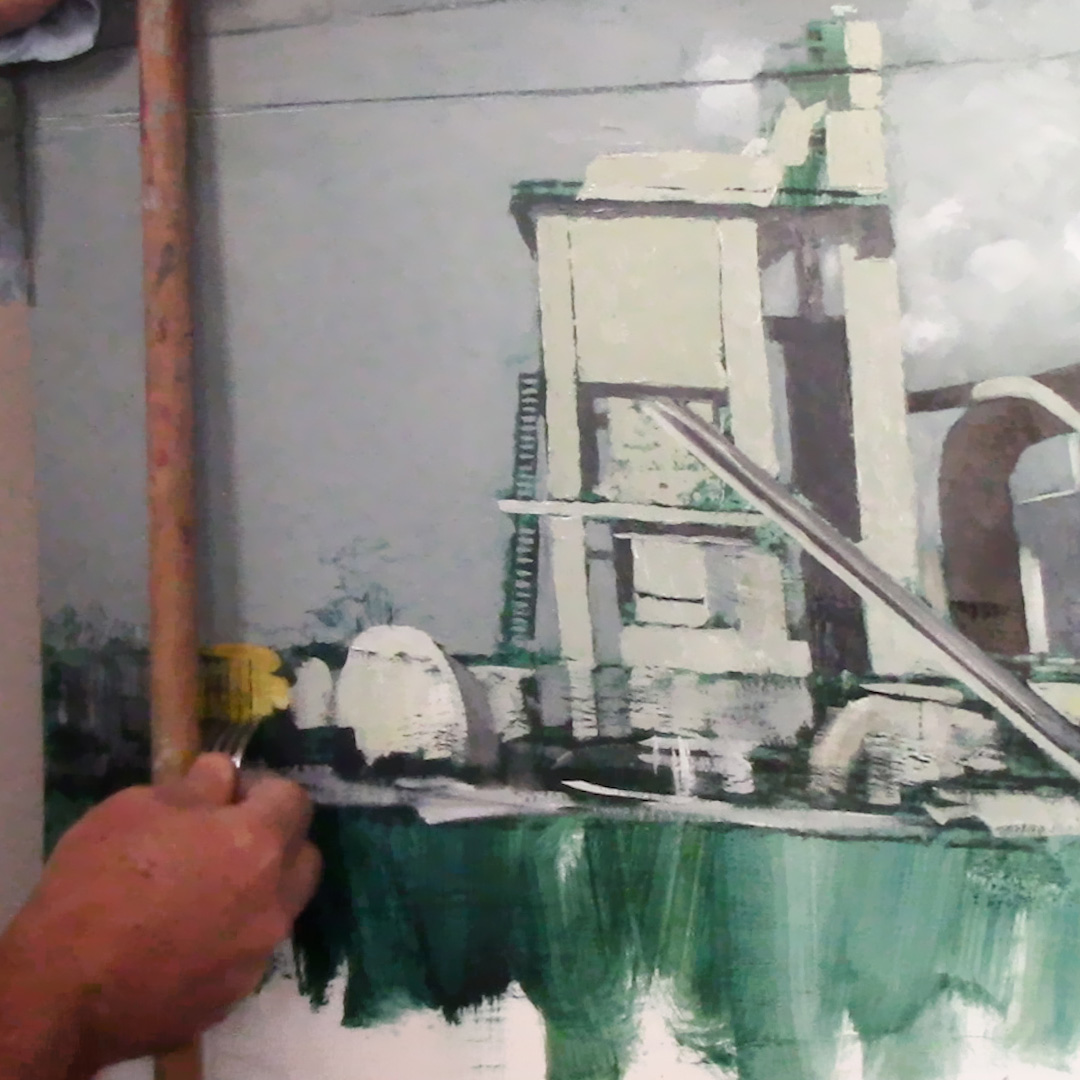 Discoveries for Growth through a
Low-Stakes Painting
Have you ever painted something just to see what might be possible without any concern for the end result? Mike calls this a "low-stakes" painting and demonstrates teaching you how you can make useful discoveries through experimentation. These discoveries oftentimes serve the artist well in future endeavors and prove worthy of exploring!
Other Courses You May Be Interested In!
Here are a few courses that you may also want to explore. Click on the course below for more information or check out all current products by clicking the "View All Products" button below!
Studio Insider Advanced Techniques and Tactics Course Curriculum
Course FAQ's
Question: I've never painted in oil before, I'm an absolute beginner, will I benefit from this course?
Answer: This is an advanced course; it's designed for the artist who already has some oil painting experience. You could easily benefit from this course if you take Mike's Simple Approach to Amazing Oil Painting Course or his Simple Approach to Amazing Landscape Painting Course first.
Question: I have a little oil painting experience, is this a course I'll benefit from?
Answer: Yes! As long as you are comfortable with your abilities, are able to mix your own colors, and have some supplies, this course can give you additional techniques and tactics you can start using right away!
Question: What if I find I don't like this course?
Answer: You have a full 30 days to try it out! If at any time, for any reason you are dissatisfied, you can receive a full refund.
Question: I have already taken one of Mike's Simple Approach Oil Painting Courses, is there any overlap?
Answer: No. Mike uses his same color palette in these projects, but the techniques and tactics are purposely different, designed to give you a wider range of options when painting on your own.
Question: Do I need any specific materials or supplies?
Answer: Beyond whatever basic materials and supplies you already have, there are a few you may want to acquire. Mike discusses these prior to each project. The additional materials are minimal and easily purchased at the art material retailer of your choice.